click the image for details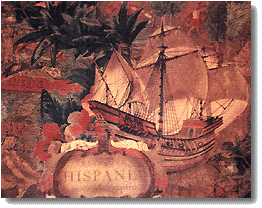 A "classic" in elegance

An exclusive design that has now become a classic is the patented "Hispaniol". It was created for the 500th anniversary of the discovery of America for the Columbus range of leather goods, still the core product of the Florentiner firm Vampiro.
Apart from the extremely beautiful design and colours, this fabric, Made in France but given a coating of Pvc by an Italian firm, is very strong and perfectly suitable for both small accessories or large items of luggage. A reminder that Vampiro's whole strategy is based on Florentiner artisan tradition. The Company in fact started with the objective of designing and developing exclusive products of high quality using the best craftspeople in the sector.